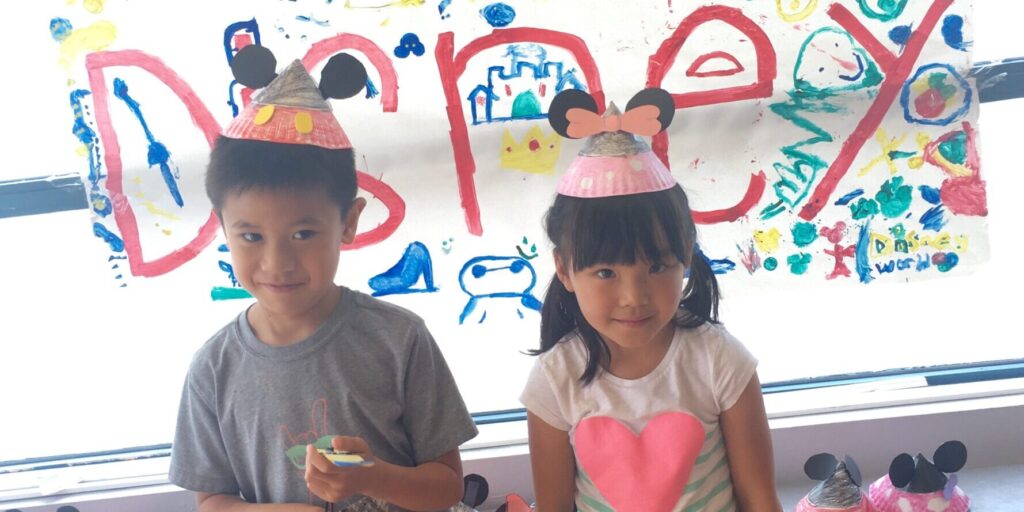 After a long period of isolation… we are delighted to offer our Summer Camp starting
July 6th

, complete with gymnastics activities all day, fun games, crafts, and more, while maintaining a safe and healthy environment. Each week your child will have the opportunity to use all of the equipment in our facility which will allow them to build their gymnastics skills over the summer. Our coaches will ensure all activities are tailored to the level of difficulty that your child needs which allows campers of any level of experience to thrive.
---
Registering for Camp
As of July 2020, we will be using an online class registration system. All families, returning or new, must create a new family account. Click on CREATE ACCOUNT, then add campers as students, and register them for camp weeks. Once you've created the account, you can return any times to the FAMILY PORTAL to check your account, register to other programs, and update information your information.
Register for your week(s) of camp using the "search classes" feature, add extended care as needed (before and after care appear as a separate class, chose the specific extended care days you need for that week. Once you've chosen the weeks/care, you will be able to confirm the registration (cost will not yet reflect the early-bird discount). We will be contacting you via email to arrange for payment, as the online payment feature is not yet ready.
---
What to Expect?
We will be following strict safety and hygiene procedures, as per regulations of Gymnastics Ontario and Public Health Ontario. Our sanitation protocols include the use of a power fogger in conjunction with Vital Oxide. Vital Oxide is a hospital grade disinfectant certified for use against COVID-19. Based on the product's safety sheet, is it non-toxic and non-carcinogenic; no eye protection or masks are needed; it has no odor; it can be used on food preparation surfaces without rinsing.
Summer camp participants will be in pods (maximum size of 10 in a pod, including the coach and any CIT support). At any point in time, pods will be at separate areas of the gym ("zones"). Each pod will be entering and exiting through a separate door (west side of the gym), to maintain distancing at all times. Sanitation and safety procedures will be maintained.
---
Health & Safety Protocols
We follow strict safety and hygiene protocols, over and above what is mandated by Provincial and Public Health guidelines and Gymnastics Ontario regulations, to ensure that our families and athletes can comfortably participate in camp at the gym this summer. Thank you for your patience and cooperation in ensuring that our gym environment is safe and healthy for all.
As per Gymnastics Ontario regulations and Provincial guidelines, access to the gym/facility is limited until further notice to summer program participants, athletes, parent volunteers, coaches and staff, during their scheduled programs provided that they have completed necessary forms. Forms and policy documents will be completed online through Google Forms to facilitate the process and for record keeping. Our protocols are informed by Provincial guidelines for summer day camps.
The following THREE documents will be completed once per participant:
Academy Sport & Fitness Release of Liability Agreement
Academy Sport & Fitness Assumption of risk
Gymnastics Ontario Preventing COVID-19 Declaration of Compliance
Please complete the following Google form online to acknowledge that you have read, understood and agreed with these policies:
In addition, families are asked to review our Family Handbook about preventing COVID-19 in our facility:
Finally, as per current summer day camp Provincial requirements, all participants must be screened daily before coming to the gym. When a participant or a member of your household is sick, exhibiting symptoms, is suspected to have COVID-19 or has been exposed to someone who has, the participant should be staying away from the gym until they are cleared. Please complete the screening form daily for your camper (3 hours or less) before arriving at the gym:
---
Important Disclaimer (COVID-19)
Due to the current pandemic situation, all campers must be able to maintain physical distancing and follow instructions and protocols throughout the day. Our summer camps are limited this summer to ages 5 and up (born 2015 and before). If your child will be turning five soon, please contact us so that we can further assess whether they can join our camp this summer. If your child meets the age requirement, but you feel your child will have difficulty with these strict protocols, please wait and register them when they are ready. Please note that we reserve the right to de-enroll any campers who is unable to keep up with safety protocols.
---
Hours, Fees and Policies
Full Day Camp
July 6 – September 4, 2020
Ages 5 and up

Hours: 9:00am – 4:00pm
Cost: $310/week + HST
($265+HST for the week of August 4-7)

Note: An additional fee will be added for those campers who do not have a current Gymnastics Ontario (GO) membership. GO membership is required for all campers, membership which normally runs from July 1st to June 30th. This summer, 2019-2020 GO memberships will carry over until August 31st 2020. Campers who do not have a current GO membership would need to be registered for 2020-2021 when they join camp. The current cost of 2020-2021 membership is $40 (HST included), which we will split over the first two weeks of camp: adding $20 (HST included) fee for the first week, and $20 (HST included) for the second week; no additional cost for camp weeks thereafter.
As per current regulations, we are not permitted to offer drop-in options this summer.
Extended Care (must be pre-arranged)
Before Care: $6.50/day + HST
After Care: $6.50/day + HST
How to arrange for Extended Care? Register for Before/After Care through our online registration system – add the care for the appropriate week and check off which days you would need before and/or after care. Cost will be added to your fees.
Extended Care must be pre-arranged and paid for by Friday at noon prior to the start of the program week.
Before Care
After Care
Specials & Discounts
SPECIAL JULY PROMOTION: Get $30 off your new full-day camp registration during the month of July (after tax). Subject to space and availability.
Sibling discount 5%.
Discounts cannot be combined.
Please ask about applying credit from March-June recreational classes.
Summer Payment and Cancellation Policy
No deposit is required at time of registration for summer camp or program to hold a spot.
After you register, you will receive an email with your balance and payment instructions. Early bird and credits will be applied at that time.
ePayment must be received no later than Friday at noon prior to the week of camp to finalize your registration and secure your spot for that week.
No refunds once payment is received and processed. However, you may apply for credit towards other camp weeks or programs. An administrative fee of $50 will be applied to all cancellations/withdrawals.
In the event of government mandated forced closures (such as COVID-19 closures) only credits will be available for missed camps or classes (no refunds).
No refunds, credits or makeup for missed camps/programs or when camps/programs are cancelled due to exceptional circumstances including but not limited to severe weather, flooding, outbreaks, and any other unforeseen circumstances/emergencies that do not allow for safe operation of the facility.
Gymnastics Ontario fee is non-refundable (no credit).
NSF cheques are subject to a $30 charge each.
---
Arrival & Departure Procedures
Arrival Procedure (drop-off) & Gym Entry
Drop off is at 9:00am. Campers must arrive on time, to ensure that we can maintain health and safety procedures. Doors will open 10 minutes before the start of camp, when possible, to ensure staggered and safe entry of campers into the gym. Latecomers will be admitted only when the coach can safely bring them in. If you know your child will be absent, please inform the coach or advise us via email as soon as possible.
Only campers will be allowed into the gym. Regretfully, parents and caregivers will not be allowed into the facility. At this time, washrooms are available for campers only.
Upon arrival, line up for entry outside the designated door for your Camp Pod.
Parents/caregivers must sign in campers at the door with the coach (contactless sign in). All campers must have their policy forms and health screening self-assessment forms completed before entering the gym. The coach will confirm daily assessment.
Upon entry into the gym, campers will place all their outdoor clothes and shoes in one large bag (with zipper). Food and snack must be in a separate closed bag. Once all campers are in, all bags will be fogged and placed in the designated Camp Pod area.
Please come dressed for camp, so that the start of day can move along quickly and efficiently.
Departure Procedure (pick-up)
Parents/caregivers must arrive on time for pick-up and wait by the designated exit for their camper's pod.
The coach will release campers to their parent/caregiver and sign them out. Those picking up campers may be asked to show a photo ID to verify their identity. Please ensure that everyone with permission is listed with us to pick up your camper.
Parents and caregivers will not be allowed into the gym.
Regretfully, we are unable to accommodate late pickup. Campers must be picked up at 4:00pm. After care campers must be picked up no later than 5:30pm.
---
What to Bring?
Nut-free morning and afternoon snacks and a substantial lunch (refrigeration or food heating are not available)
Full bottle of water
Mask (and a small ziplock sandwich bag to carry it around)
Proper and comfortable attire: gymnastics leotard, tights or close-fitting clothes to allow safe movement of the body (no skirts, dresses or hoodies). Please remove necklaces, or any hanging jewelry. Long hair must be pulled back. Campers will be barefoot while in the gym.
Towel and a change of clothes.
Sunscreen for outdoor activities (we recommend spray sunscreen as coaches are not permitted to apply sunscreen to campers)
One large bag/backpack (with zipper) for all clothes and shoes. Separate closed bag for Food and snacks.
Smiles 🙂
---
General Gym Policies
Gymnastic equipment may not be used unless under coach supervision.
Outdoor shoes must be removed and left in the front lobby before entering the gym.
Only athletes and staff may enter the gym (parent & tot programs excepted). A viewing area is provided. (the viewing area is closed until further notice due to COVID-19).
Food and drink are allowed only in designated areas.
We strive to be a peanut/nut-free environment. Please help us keep it that way. All participants are asked to refrain from bringing in products that contain or may contain peanuts, nuts and/or nut products. Remember, peanut/nut allergies are of the most common food allergies, with potential life-threatening consequences. Please be aware and read the labels carefully.
The Academy reserves the right to terminate participant membership at any time.
Coaches, class times & age range are subject to change based on availability and demand.
---
Communication
Coaches are running camp during the day and do not have regular email or phone contact. If necessary, please email the gym and the head camp coach will respond as soon as it is possible. The office will usually be unstaffed during camp. Please help us maintain safe operations and do not enter the gym. Doors may be open for ventilation, not for entry, during the day. Thank you for your understanding and cooperation. Let's all have a fun and safe summer!